Web Marketing has become the preferred method of promotion and advertising for both web and home businesses. Internet marketing gives business owners the opportunity to target their chosen audience by utilizing diverse Marketing Solutions.
WE OFFER THE FOLLOWING WEB MARKETING SOLUTIONS
WEBSITE
One of our main and most important Marketing Solutions is a website. To get a your business on line you must first set up a business website.
For $399 we offer basic website design including free domain name to start your web presence today.
For $499 we include a server for one years and take photographs of you business and 30 sec video to feature your business on your site and the web.
This covers most basic site, for more complex sites or special programming call for a quote.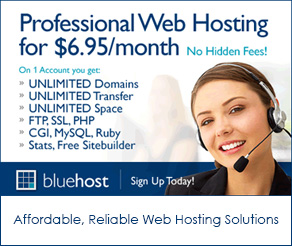 MOBILE SITE
Everyday the number of people searching for businesses on their smartphones increases with more frequency.
According to Google, 95% of smartphone owners use their smartphone to search for local businesses. If you don't have a mobile website, then you are losing sales.
Only about 5% of small businesses are using mobile websites as a Marketing Solution.
If you are a service business like a plumber, heating & air contractor, a restaurant, or a retail store, then you absolutely need a "thumb-friendly" mobile website. When people search for your service on their smartphone, they are ready to buy or to contact you.
SEO SITE
One of our main and most important Marketing Solutions is a website. To get a your business on line you must first set up a business website.
We will register your domain, design your website and place it on a server to start your web presence today.
LANDING PAGE
Landing Pages are the Next Evolutionary Step in Online Marketing. Landing pages not only helps you better engage visitors but actually helps turn them into customers.
Landing pages are Specific pages on a web site created for visitors referred from marketing campaigns which are designed to achieve a marketing outcome.
Anything referred to as a landing page is intended to maximize conversion of visitors to this page or series of pages to a particular marketing outcome – sale, lead or change in brand metrics.
Most typically, the outcome is conversion to action, typically data capture where a site visitor fills in an online form to generate a marketing lead.
NEWS LETTER
The email newsletter remains an effective way to build a relationship with a prospect, nurturing them along until they become a customer. They obviously like you enough to sign up for your marketing newsletter. Now keep moving things along in the inbox, kindly and noncommittally, in a way only the soft approach of a newsletter can do.
WEB BANNER
Research shows that consumers engage with banner ads more than TV or outdoor ads. Banner ad CTRs average at 0.07% (Digiday). TV response rate is 0.05%, according to Nielsen. Outdoor has a 0.03% response rate (Digiday). Radio, which lacks the visual component of the other three media, has a response rate of 0.13% according to Arbitron.
© HS Marketing Solutions 2002-2017. All rights reserved. | Disclaimer: Legal information is not legal advice.